Vraag een bezoekje van de zendelingen aan
We nemen contact met u op zodat we even kunnen langskomen, een opbouwende gedachte met u delen, en uw vragen beantwoorden.
Bedankt. We nemen contact met u op.
Wij zien uit naar ons gesprek. We nemen binnen 24 uur contact met u op om een afspraak te maken.
Error: Form could not be submitted at this time. Please try again or refresh the page to start over.
Wat kunnen de zendelingen voor mij betekenen?
Hoewel onze relatie tot God zuiver persoonlijk is, hebben we soms wat hulp nodig om te begrijpen wat God ons wil zeggen. Waar u zich ook op uw geestelijk pad bevindt, zendelingen kunnen u evangeliebeginselen en inzichten bijbrengen waar u onderweg iets aan hebt. Beschouw ze als 'geestelijke gidsen'.
Ze helpen u om dichter tot God te komen.
Ze leren u hoe u tot Hem kunt bidden en antwoord op gebeden krijgen.
Ze helpen u om een antwoord op uw geestelijke vragen te krijgen.
Ze vertellen u over de Heiland Jezus Christus en zijn evangelie.
Ze verduidelijken de Schriften.
Ze steunen u als u het moeilijk hebt.
Ze moedigen u aan om vooruitgang te maken richting bekering, geloof en de doop.
Ze laten u kennismaken met een gemeenschap van gelijkgestemde gelovigen die u op uw geestelijke reis steun kunnen bieden.
Hoe gaat een bezoekje van de zendelingen eraan toe?
De zendelingen zullen vragen of ze met een gebed mogen beginnen. Als u dat wilt, kunt u misschien zelf een gebed uitspreken. Het is de bedoeling om de Heilige Geest tijdens het gesprek uit te nodigen.
Ze nemen waarschijnlijk de tijd om u te leren kennen, en vragen naar uw interesses. De zendelingen beschikken over een programma dat ze kunnen gebruiken om u te onderwijzen, maar ze passen hun boodschap aan u en uw omstandigheden aan. Ze lezen samen met u in de Bijbel en het Boek van Mormon. Ze nodigen u ook uit om in gebed te vragen of wat ze u vertellen waar is.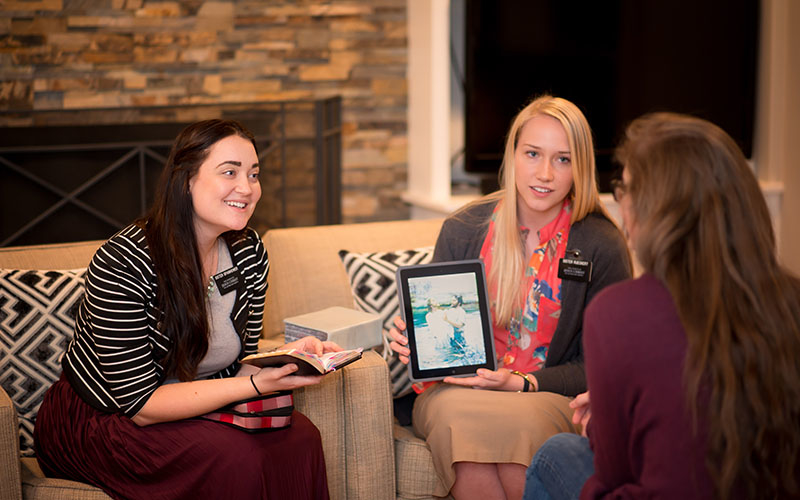 Als u dat wilt, kunt u meteen een volgende afspraak vastleggen. Tijdens het tweede bezoek vertellen ze u meer over Jezus Christus en zijn herstelde kerk, en beantwoorden ze uw vragen. Hun programma omvat boodschappen over Gods plan van geluk en Jezus' offer voor ons, over geloof, bekering, de doop, de Heilige Geest, en het onderhouden van Gods geboden. Ze zullen u aanmoedigen om te bidden, het Boek van Mormon te lezen, naar de kerk te gaan, en u te laten dopen. Wees gerust dat de zendelingen uw tempo zullen volgen. U bepaalt of en wanneer u met ze wilt afspreken.